VTONE Queue Metrics
Measure the Effectiveness of your Call Center in Real Time with VTONE Queue Metrics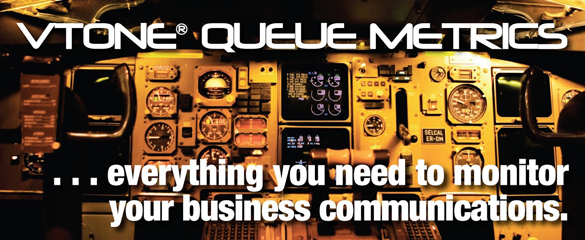 Ever feel frustrated trying to generate effective reporting on your call center stats? After plugging in tons of numbers into specific cells in a spreadsheet, only to realize your numbers are off somewhere when your reports don't add up, can leave anyone feeling lost and overwhelmed. And unless you're able to view the data in real-time, you're always playing catch up and viewing stats based on past events. Wouldn't it be nice to be able to view data in real-time and be able to adjust accordingly?
The good news is with VTONE Queue Metrics, you can run detailed reports on historical and real-time data for all locations from a single portal. With the user-friendly web-based administration, you can make changes to your call queues and routing on the fly. And, VirtualTone will help you tie Queue Metrics into your current CSM software to streamline your business applications. Everything you could possibly need to stay connected to the call volume of your business is right here:
Call Queue Detail Reports
Agent Session Detail Statistics
Call Distribution Queue Statistics
Track Outcome of Calls
Answered Queue Call Statistics
Queue Call Detail Statistics
Queue Lost Calls Detail Statistics
Real-time Queue Analysis
Real-time Agents Interface
Real-time Visitors Web Statistics
Inbound Automatic Call Distributor Attempts
Area Code Breakdown Call Statistics
And many more!