VTONE Operator Panel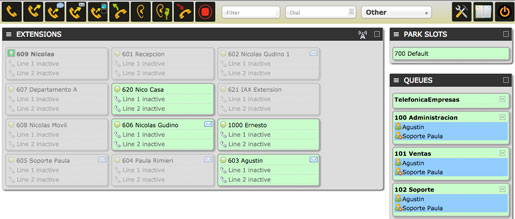 The panel lets you see detailed PBX activity, like who is talking and to whom, call durations, held calls, queued calls, etc. It lets you control your phone and perform transfers, launch call spying and whisper, monitor queue activity and more. All from your web browser, without the need to install anything on the client side. This version shows 2 lines per phone and held call status, so you can see exactly what is going on.
For receptionists
Developed with a receptionist in mind. All actions are available within two clicks of the mouse.
See who is available or not.
Transfer directly to destination extension, voicemail or external numbers.
Ability to pickup ringing phones.
Manage and visualize parked calls.
Realtime search and filter of extensions (great for big companies with hundreds of extensions).
For call center supervisors
Not only you can see extension status, but also a quick glimpse of queues.
See agents logged into a queue.
See agent status (paused, logged off, invalid).
See every call waiting on the queue with its timer.
Manage agents: add, remove or pause queue members.
Filter extension list to only queue members with one click.
Spy or whisper to your agents.
Initiate call recording to disk.
For end users
You do not need to be a receptionist or run a call center to take advantage of FOP2 features, as it lets you control your own calls even before you pick them up!
Call notifications (callerid number and name, call from queue).
Directory integration, live search or dial to any typed number.
.tel support: just type the .tel domain and you will get the phone number or direct voip dial.
Call control: transfer out, hangup, pickup, etc.
Conference Control: lock, invite, kick & mute, talk detection.
Presence: set and visualize your presence status.
IM Chat: Instant Messaging and Notes integrated, no need for extra software or daemons.
Voicemail Explorer: lets you browse and hear your voicemail right from your browser.

Web based
It runs on your browser. You can open it up and manage the phone system even from the Internet. This make the software ideal for virtual call centers. The layout is easily modified as it is a regular and well commented web page.
Additional features available:
Simple Wallboard - Change the display to show a full screen wallboard displaying only calls waiting in queues.
Set Follow Me - Adds an option to modify Follow Me destinations and ring time in the action submenu
Auto Wrap-up - Plugin will put an agent on pause automatically after finishing a queue call for a configurable amount of time.
Queue Login - The user will be auto added to selected queues as a member.
Call-Flow - This plugin will let you see/set/unset Call-Flow/Day-Night
Speed Dial - Displays a list of speed dials on the right column to enable one click dial/transfer of calls
Idle Timer - Displays an idle timer on extensions, to know how long since they last received a call.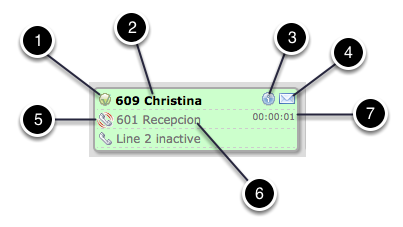 There are several elements: 
1 Presence Icon
This icon indicates the presence state for the extension. A green circle means the extension is not in a call. A red circle indicates that the extension is busy or in a call. A little card icon indicates a special presence that was set by the user. The color for the custom presence is configurable. If you mouse over the icon a tooltip with the custom presence text will appear, that text is also configurable via the presence.js file. Lastly, if someone initiated a call recording from within FOP2, a tape icon indicates the call is being recorded. Since version 2.10, clicking on this icon will display an action menu. If you have the proper permissions you will be able to add, remove or pause the member from a queue, or send an email to that user if the email setting is defined in the button configuration. You might also see other options in this submenu that can be added via plugins, like setting call forward, etc.
2 Button Label
This is the text label for the extension. It shows the extension number first followed by the text label that was configured in the button definition inside the button config file.
3 Information Icon
This icon will show if the extension is paused showing a clock (for queue members). If the extension is engaged in a call that came from a queue, it will display an info icon that will show the queue from where the call came from when you mouse over it.
4 Voicemail Icon
If there is voicemail waiting or stored for the extension, it will appear an envelope. The number of messages can be read in the tooltip when you mouse over it.
5 Line activity icon
The handset icon will indicate if the line is ringing, it is engaged in an outgoing call (right arrow), and incoming call (left arrow), or held (hourglass)
6 Line callerid
If available, it will show callerid name and number.
7 Line timer
The timer for the current call.