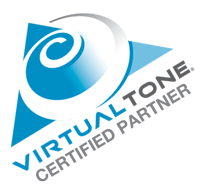 Stand out from the crowd with VirtualTone Certifications
There's a lot of hype out there about technology certifications. Which ones matter, if any? Does it really make a difference having those little letters after your name on your business card or email signature? If you do a quick search on Google, there are statistics out there that support that most companies view techs with certifications as more efficient at their jobs, and a much better investment in the long run opposed to those without the certifications.
Which begs the question: do you think your clients hold the same viewpoint? They may not know what MCSE, CWNE or CISSP stands for, but they know those series of letters make you stand out from other service providers, and may lead them to choose you over your competition. That's why we're offering you VirtualTone specific certifications as part of our Certified Gold Agent Partner Program to distinguish you from your competition.
Our Certification Program will give you extra credibility when pitching VirtualTone to your clients. With VirtualTone Certifications, your clients will know they're dealing with someone well-versed in VoIP, and will feel confident giving you control over their phone system.
And, combining these certifications with our patent-pending demo kit is the one-two punch you need for knocking your sales presentations out of the park. Give us a call to learn more about this winning combination.
Learn

More About Becoming a Certified Partner