December 11: Happy National App Day!
In 2017 one of our favorite sayings is "There's an app for that." Which is true...there is an app for EVERYTHING. December 11 is National App Day so we thought we would celebrate by letting you know some of the most innovative and interesting apps of 2017!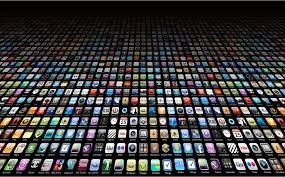 So little memory, so many apps! We are in an age that almost anything is possible right from your iPhone or Andriod and any app can be downloaded in minutes. Whether it is for entertainment, news, emergency alerts, or educational purposes apps are for all ages and are rapidly evolving. There is constant competition for which app is the most popular and most downloaded.
Let's take a look at the 3 apps that took the cake in 2017!
1. Zello: As the devastation of Harvey hit Texas this year Zello came to the rescue. According to fortune.com: Zello is designed to use any network or a Wifi connection to act as a walkie-talkie, and it's now the top free app on iTunes and the Google Play store. Zello chief executive Bill Moore told the Post that on Tuesday, as much as 120 people were registering for the app every second and that it's been trending on Facebook and Twitter. So as a Texas owned and operated company...Thank You Zello for keeping us connected during Hurricane Harvey!
2. Snapchat: According to Forbes, this is the WORLD'S hottest app! Snapchat is popular for it's ability to share short videos or pictures with a person or group of people for a small amount of time before it disappears. This millenial created app has added filters and "geostickers" to help create an ever changing app. In the world of small attention spans, Snapchat always is creating something new for its app.
3. Bitmoji: With Bitmoji you can create a custom avatar (that looks like you) and instead of using a generic emoji now you have a little BIT of you in your bitmoji! You can customize everything in 2017, so customizing what we use to emphasize our text's or Snapchat's is a no-brainer. From clothes, to skintone, to hairstyle you can create a virtual you to add into texts!
With list making apps, weather apps, reminder apps, and soft phone apps...I think it is safe to say that we are APPsolutely going to see a lot more interesting things to come in 2018.