According to the United States Census Bureau ten of the 15 fastest-growing large cities were located in the South in 2016, four of the top five were in Texas. Now we know how the saying goes, everything is bigger in Texas.....and it's true! Is your communication system ready for the increased traffic?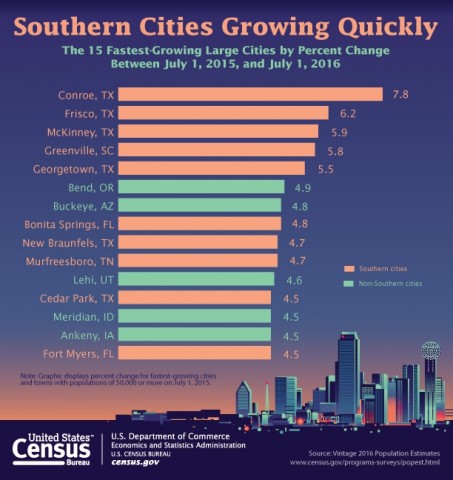 Conroe in the Houston area topped the charts with Frisco, McKinnney, and Georgetown following closely behind. All of these Texas cities had a growth rate of above 5%. But Texas didn't slow down there, New Braunfels and Cedar Park also made the list of Southern Cities on the rise.
With the growth that comes with these cities means increasing opportunities. Is your VoIP communication system prepared to keep up with the demand? VirtualTone specializes in taking your business to the next level with our 100+ features, intelligent design options, expandable communication systems, and unique integration for your industry.
At VirtualTone we want to help you evolve your business and provide you with our Texan Support that always guantees you will speak with a Tech Team member in the United States!