The VTONE Operator Panel is a necessity for any business.
This easy to use feature lets you have an inside look at detailed activity, including who is on the line, the duration of the call, held calls, what call queue the call came into, spying and whisper capabilities....and much more!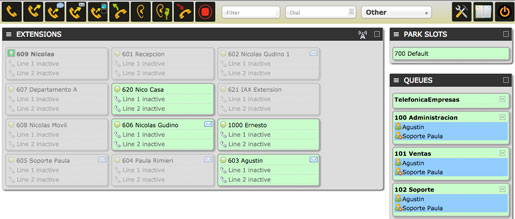 No matter what industry your business is in or what size your company is, the VTONE Operator Panel is going to improve the communication process. The Operator Panel can have different uses for different employees. For example, a receptionist is going to use the Operator Panel different than the supervisor will use it.
For a receptionist the Operator Panel can put the phrase "Let me see if they are available" to rest. You can see who is on the line and transfer a call directly to the extension. You can even change your status to let others know if you are out to lunch, in a meeting, on a break, or customize your message.
For supervisors you can utilize the whisper feature or spy feature to make sure your employees are performing to your standards. The call queues allow you to see if an employee is logged in if they work from a remote location. The control panel s easy to use to make changes in the queues if need be.
The simple, but effective, design of the VTone Operator Panel makes it easy for anyone to work. Even if you are a business owner and are on the go you can log into the VTONE Operator Panel and check in on employees while you are miles away.
For more information about the Operator Panel and all of the ways it can make your company run more efficiently contact our Sales Team at 281-756-9800 or send us an e-mail at
sales@virtualtone.net