A Guide To Find Your Perfect Desk Phone
One of the most important pieces of equipment in your office is your phone. Your phone is going to be the necessary means of communication to close deals, gain clients, and keep in touch with existing clients. Sure you can send an e-mail, but making a phone call is more personal and essential in building that strong bond between you and a client.
There are so many brands and models of phones that it makes it very confusing when you decide you need to upgrade your desk phone. You may start researching and find out that you need certain features you didn't even know existed!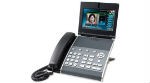 Let's take a look at a few essential questions to think about while you're deciding on the perfect new upgrade to jazz up your desk:
1.How many lines do I REALLY need on my phone?
There is always the chance that you won't have 12 incoming calls at once, but adding a few extra lines on your phone than you think you will need can't hurt. If you work in an office environment this is also helpful if you ever need to step in and help call overflow from another department.
2.What kind of display screen do I want?
This is completely personal preference. However, a touch screen office phone allows all of the wording to be larger on the screen and can might be more simple to learn.
3. Do I want a color screen or black and white?
With as many technical advances that phones have made over the year's color screens on your phone are a must. How plain would it be if your cell phone only had black and white on it? Why should your desk phone be any different? Also, having a color screen over a black and white screen can help you see the screen better.
4. How technical do I need to be to be able to work my phone?
There is no need to be an IT genius to get a new desk phone. Polycom comes with extensive training videos and makes their phones easy to set up. In most cases all you have to do is simply plug in your phone because we take care of the provisioning on it. So no need to be nervous to upgrade, that's what we are here for!
5. What headsets/video capabilities will be compatible with my new phone?
This is an important one. When picking a phone, you need to think about EVERYTHING you're going to be using it for. Will you be using a headset? Will you be video calling? Making sure the accessories you like work with your new phone is just as important as the new phone itself.
Still have more questions? A great resource to help your research is http://www.polycom.com/voice-conferencing-solutions/desktop-ip-phones.html. The Polycom website has webinars and many educational brochures for you, as well as the VirtualTone Sales Team is always ready to assist you with finding your ideal desk phone!
By accepting you will be accessing a service provided by a third-party external to https://virtualtone.com/