8 Tips to Conquer 2018!
I think we can all agree that 2017 was gone in the blink of an eye. So here we are at the beginning of a new year and a whole new set of possibilities! If you are like the average person then you think of your New Years Resolution and it seems a little far fetched but you decide to go for it anyways. This year take a different approach to the tired "new year, new you" view!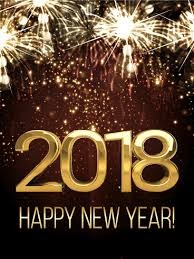 Of course there are the typical gym resolutions or eating healthier. But why not take a look at your DAILY routine and see what minor changes you can make to improve your overall life quality! A few small changes here and there are much more attainable that just trying to pull a 360 in your life overnight.
Here are 8 Tips to Improve Your Life without Going Overboard:
Don't Go for the Insane Diets or Cleanses: Instead make a schedule for yourself to cut out the unhealthy habits. For example: You can only eat sweets on Saturday's or only have chips once a week. The small changes are a lot more manageable than tackling everything at once.
Drink More Water: Simply drinking enough water can help you flush out toxins, boost your immune system, and increase energy. All of these health benefits are definitely worth cutting out your mid-day soda or juice and just going for the extra boost from water.
Set One Project A Month: We often want to organize our life quickly and then once it isn't done in our time frame we get frustrated and quit. A better way to approach this is to set out 1 major project a month. That way the goal is more attainable so you don't get overwhelmed and give up all together.
Small Fitness Goals: There are so many gym new years resolutions! We know the majority of gyms clean out around February so why not save money and look up simple workouts to complete at home. Websites and apps are the new gym….and usually free!
Make Time for Yourself: People often forget that while working hard and consistently is an amazing quality, you also need to find time for yourself to enjoy a hobby and recharge. Pick a positive hobby that includes fresh air or a way to decompress
Turn Off the Devices: In this day and age we are connected to our cell phone/tablet/computer 24/7. It is hard to take a step back and turn them off but it can help your brain relax if you turn them off (or volume off) at a certain time each night…..see tip 7.
Get the Right Amount of Sleep: Of course the 8 hour rule is what you remember, but find how much sleep you personally need and make sure you unplug and debug your brain to get a restful night of sleep.
Learn Something New: Whether it is a new skill or hobby, learning means you are still exercising your brain in a positive way other than at work. Learn that new skill you've been putting off for years or take up that class on Saturday mornings you've been telling yourself you're too busy for.
Happy New Year! Let 2018 be one for the books for you!