Complete Control over Your Clients' Communications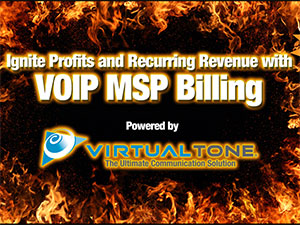 VirtualTone allows you unparalleled control over the administrative interface of your client's VoIP phone service. With this, we give you options on how you want to handle troubleshooting and support for your clients. Whether you want to handle support yourself and call us occasionally for guidance, or prefer to direct your clients to our support staff, you have the freedom to decide what's best for you.
Here are some examples of options that come with VTONE MSP BILLING:
Customized User Web Interfaces With Your Logo
Bill Directly for Numbers (DIDs)
Bill Directly for Trunks
Bill Directly for Long Distance Minutes

Bill Directly for Toll Free Minutes
Bill Directly for Flat Rate Minutes
Bill Directly for Phone System
Bill Directly for Phones
Make invoicing your clients easier this month. Simplify your invoicing by harnessing the power of VTONE MSP BILLING!
The Premier VoIP Solution for the IT Nation!
VirtualTone offers you a VoIP solution that's fully integrated to ConnectWise with incoming call recognition, and automatic billing for your clients' service. As ConnectWise Partners ourselves, we understand the challenges that go along with tracking and invoicing clients correctly for their VoIP service.That's why we developed our VTONEMSP BILLING module and want to share with you how easy it can be to invoice for VoIP.
With VTONE MSP BILLING, you have the freedom to determine how you want to bill your clients, and the ability to set it up in ConnectWise for complete automation. Whether you base it on a flat monthly fee, per-machine, or actual usage,VirtualTone will talk to your ConnectWise system on a nightly basis and make the necessary adjustments in your agreements.
And, if you've ever thought about including VirtualTone in your existing managed service agreements, the VTONE MSP BILLING module will make that a reality with one easy invoice to your clients.
A Solution to Your Invoicing Headaches...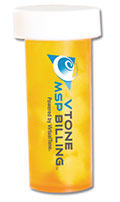 Do you feel like there isn't enough aspirin around when it comes time to invoice your clients? Even with the power of ConnectWise® agreements behind you, there is still a manual process involved in adding the correct amount for your VoIP service.With the element of human error, are you confident your invoices are always accurate?
If you've been frustrated trying to find a way to simplify your billing, there is finally a solution for you.
As a VirtualTone Gold Agent and ConnectWise Partner, invoicing your clients for their VoIP service just got easier. Our VTone MSP BILLING module allows you to finally take advantage of all that ConnectWise agreements have to offer, allowing you "set it, and forget it" billing capabilities for VirtualTone services.
Absolutely, the only communications system you'll ever need...Guaranteed!
What Our Clients Say
We have been a customer of Virtual Tone for almost 5 years. Our phones are an important tool in the way we do business, and we needed a company who could keep up with our changing business structure. Both the sales and the support team at Virtual Tone have consistently delivered fast and friendly customer service and support as we have grown. We recently underwent a company merger and Virtual Tone worked quickly to build a system that would work for our expanded company. Not only were they able to cater to our needs, they were also able to save us money, too! I highly recommend Virtual Tone to any company looking for quality service and a great value from an exceptional group of people.
I have a phone in the office and at my home. If my staff calls my extension, my phone rings at both locations so I can be found faster when needed.
Switching to VirtualTone was one of the best business decisions we have made.